By : JAIME SANTIAGO
jaimes@caribbeanbusinesspr.com; cb.pr@gmail.com
Edition: November 1, 2012 | Volume: 40 | No: 43
Peter Paul Electric supplies state-of-the-art valves to global corporations;
P.R. becomes springboard to Latin America
Puerto Rico, long known as a pharmaceutical-industry manufacturing powerhouse, has many other unsung heroes in the production arena. Case in point, Peter Paul Electric Inc.
What do fast-food restaurants, auto and medical equipment manufacturers, alcoholic beverage and oil companies, hotels, the military, airplanes, ships, trains, and others have in common?
They all use the company's Puerto Rico-manufactured products.
Since 1972, Peter Paul, the $20 million company that employs 45 people in Fajardo, has been manufacturing coils, solenoid valves and electronically controlled valves used for air, liquid or gas often found in automated systems, pneumatics and hydraulics.
Due to the local operations continuous success during all these years, and with a recent government incentive package that allowed the company to remain operating on the island, Peter Paul plans to bring new products to its local operation and will use Puerto Rico as the base for its expansion efforts to Latin America.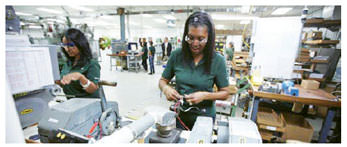 "Our father founded the plant in Puerto Rico 40 years ago, and both my brother Kevin, who runs it, and myself were born here and love the island," Peter Paul President Michael Mangiafico II told CARIBBEAN BUSINESS. "We understand the local culture and know that Puerto Rico can become a bridge for our future plans in South and Central America."
The valves manufactured by Peter Paul are used by multinational companies in all kinds of industries and products around the world, and are present in many different areas of our daily lives. If you walk into an elevator, turn on your coffee machine, drive through a car wash, go for a medical checkup or ride in an airplane, there is a high probability that a valve manufactured by the company in Puerto Rico will be partly responsible for the operation of these machines or devices.
"We manufacture over 10,000 different kinds of solenoid valves for all kinds of products," Mangiafico said. "We have off-the-shelf regular valves, but we also tailor them to customers specifications."
That flexibility allows Peter Paul to supply solenoid valve solutions to almost any kind of industry, such as oil and gas, electronics, transportation, chemical petroleum processing, pneumatics and hydraulics, medical equipment, industrial, food processing, and beverage dispensing, among many others.
"Our valves are found almost everywhere," Mangiafico added. "In the [Trans-] Alaska oil [Pipeline] there is one every square foot."
In the global $72 billion industrial-valve industry, Peter Paul's products are known for their high quality.
"We at Peter Paul put a heavy emphasis on the word quality. In describing our products, quality is the most important term," Mangiafico said. "One of the results of being in a specialized business like ours, for more than 60 years, is a thorough knowledge of all facets of manufacturing and development of superior valves and operators.
"Our superior quality is what helps us compete against cheaper products manufactured in lower-cost jurisdictions. When our customers buy from us, they know they are getting a valve that will last for many years, sometimes many decades."
ESTEBAN A. LOPEZ-ROSADO, ESQ.
LGA Strategies, LLC
380 Escorial Ave.
San Juan, PR 00920
Office: 787.963.1831
Mobile: 787.210.6888
esteban@lgastrategies.com